Many Animals, One Zoo: Help Each Other Be Safe!
Posted
27 Aug, 2012
Contrary to the opinion of the great pop philosopher Prince, we believe Life is Just a Party, and Parties Were Meant 2 Last. There will be more party animals at the Zoo this weekend than ever before, and we want your party to last through the entire weekend safely and soundly, so please, watch out for each other, and know that help is all around you. If you see someone slip, trip, or overheat, someone who needs medical attention, rehydration, or just a helping hand, please keep the positive vibe alive, and be a friend to a friend in need.

What does that mean? Well, be a good friend - if you see someone who looks like they could use a helping hand, or you or your fellow party animal is not feeling well for ANY reason, bring it to the attention of one of our helpful staff working at a HELP POINT. These are trained security and medical personnel who are here to help keep everyone safe, whether it's getting someone out of a tight spot when they're a little unsteady on their feet, getting water to someone who's dehydrated, or taking someone who's not being civil for a "time out". They'll be all around the festival grounds in spots that allow them to keep an eye on things, and their locations will be marked with this H icon:

. There will also be medical aid stations marked with a red cross in the four corners of the park.

When you arrive at the festival, you'll see people handing out bright pink flyers with a map showing all of the HELP POINTS, including the medical aid stations. You can also find those flyers at vendor booths along with festival guide booklets. Please take a moment when you arrive to read the flyer and familiarize yourself with the HELP POINTS locations - it could make all the difference should you or someone you care about find themselves in need.

And be good to yourself - make sure to drink water throughout the day (there will be free high-speed water refill stations in several locations), keep your body fueled for dancing with the many good eats available, wear sunscreen and find a shady spot to lounge if you need it. Treat your mind and body with respect and help others do the same.

We're all headed to the Zoo to celebrate together, so let's keep the party positive by looking out for each other!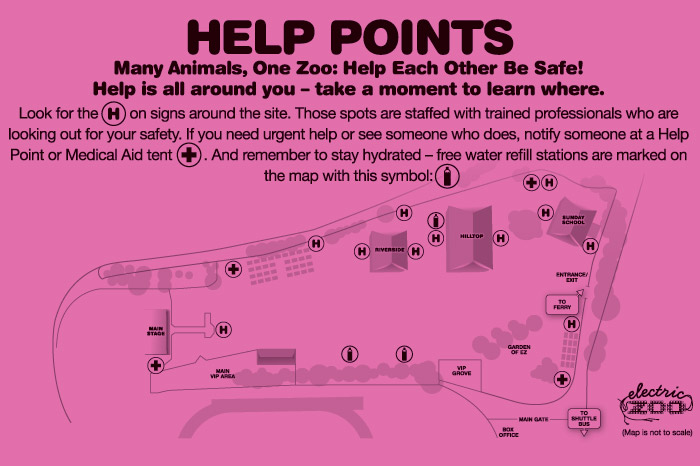 blog comments powered by

Disqus